After nearly a year of semi-lockdown thanks to COVID, do you miss the simplicity of walking into a restaurant to dine without the realities of being at home?
The best thing about dining at restaurants are the little things that no one really notices but somehow all help make the food taste better. We're talking about the readily available napkin, spotless water glasses, eternally full wine glass, ambient lighting, a place to dry your hands in the bathroom and background music so perfect it just melts into the evening.
Below are our tips and tricks to help elevate your at home dining experience.
---
CREATING A MOOD ~ We cannot stress how important this one is. There is literally nothing worse than talking into a dinner party with a dark foyer and total silence.
Background noise helps to make those awkward silences before your guests are engaged in comfortable conversation a little less awkward. Mostly because it isn't completely SILENT. A simple solution is to have some music playing. You'll want to avoid a ton of profanity, aggressive tones or really anything that takes attention away from the conversations happening in the room – remember that this is meant to be background music. We're no strangers to throwing a party and thanks to the magic of Spotify, have put together a little playlist for you to check out.
CLICK HERE to listen to the Harling Food Co. Playlist.
Lighting is fairly easy to execute. Just make sure each room that your guests will be spending time in has some light. Light a candle in the bathroom to create ambient lighting. Keep your foyer, dining and sitting room lit to create an inviting atmosphere and as the days get shorter, make sure your outdoor lights are on to welcome your guests as they arrive.
SETTING YOUR TABLE ~ Presenting your guests with a delicious meal is a feat in itself (or you can always call in the pros *wink wink*) but, if you want to really elevate the experience, provide your guest with the essentials that they need to get through a meal with grace.
Napkins are as essential as cutlery and they provide guests a place to wipe their hands other than the underside of your chair or their lap. You also want to make sure your guests have a water glass at their place setting. Chances are you offered them a cocktail or glass of wine when they arrived but they probably haven't had a sip of water since walking through the door. That's the great thing about restaurants, water is plentiful and if the restaurant is doing their job well, you never even have to ask for it.
If you want some tips and tricks on how to set a beautiful table, check out our friend Armine Tatosian aka Ms Modern Manners.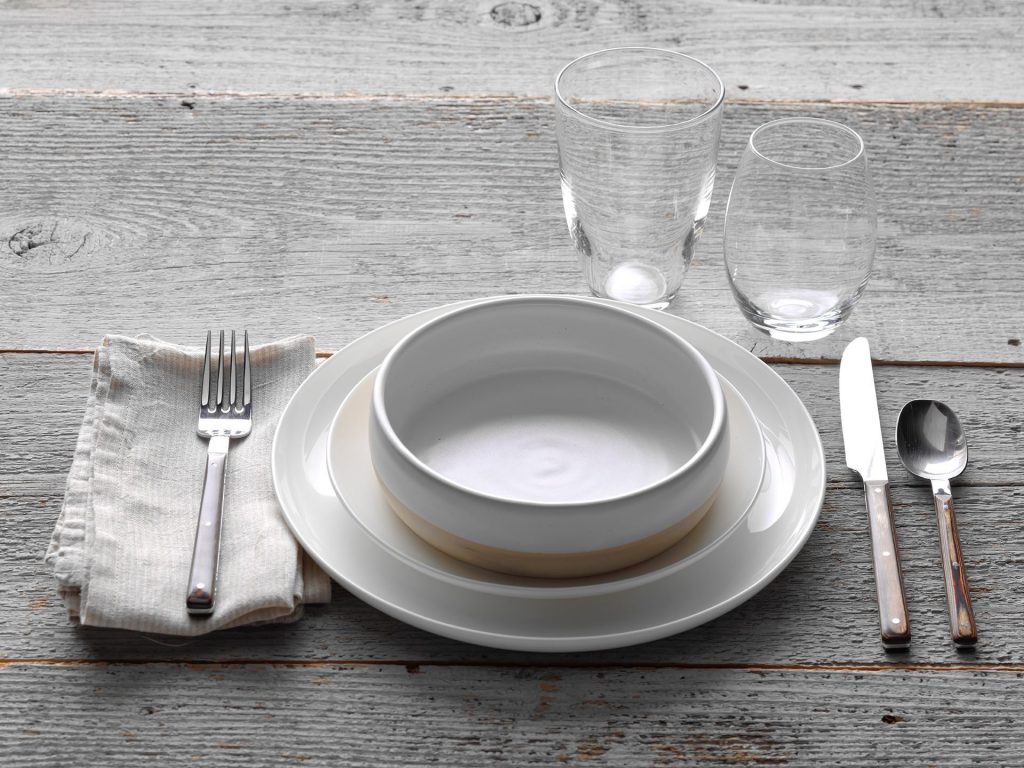 THE EXTRA LITTLE TOUCHES ~ If you can create a mood, set a table and serve up some delicious food then you're already winning at hosting. But to really bring the whole restaurant experience into your home there a couple small things you can do to elevate the experience for everyone.
Wine! Take the time to serve wine that will pair with the evening. Bubbles are always a great way to welcome guests are there are so many great (and cheap) options out there. Grab a bottle of Cava and have it on offer to guests as they arrive. Keep in mind that not everyone drinks so having a bottle of sparkling water and simple garnish like a lemon slice is a must. Once you sit down to eat, offer everyone who is drinking a top up of the wine you have selected to pair with dinner (wine and food pairing is also so very important and we'll post some tips on our social media later this week). Once you notice a glass is near empty, offer to top them up.
Digestifs. In most restaurants, your server will offer you an after dinner coffee or drink. This is such nice way to end any evening and so easy to incorporate into your dinner party. Before you serve dessert, offer guests a coffee or after dinner drink. A nice bottle of Brandy (Pierre Ferrand Curacao and Chateau Montifaud VS are staples in our house) is nice to offer guests that don't necessarily have to drive home. Both will help with digestion and there is something so "adult" about finishing a meal with a special beverage.
Stock the bathroom. Before your guests arrive do a quick walkthrough of you bathroom and check for the following:
Make sure you have plenty of hand soap and sanitizer available, that the toilet seats are down and the toilet paper is plentiful, and have a well placed hand towel for guests to dry their hands on. Also, consider your company. Some groups may be totally comfortable using the same towel to dry their hands as other guests and may just use a squirt of hand sani after to cut down on the spread of germs. Others may be more comfortable having a single use towel, in which case, we recommend you grab some compostable paper towels and have them nicely folded and set next to the sink so they're easily accessible.