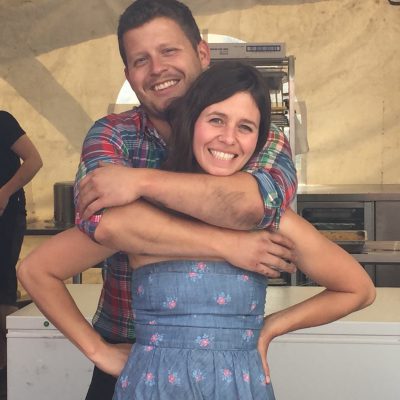 ABOUT US
Harling Food Co. provides personal chef services with thoughtful execution. Our small, family operation is headed by Brit Hart and Jamie Harling. Both have worked in the hospitality industry for years, opening a variety of concepts and running some of Calgary's top eateries, including Deane House, Rouge, Craft Beer Market and Bricks Wine Company.
In recent years, each of them took a step back from working in the hospitality industry to focus on their growing family but quickly found they missed the experience of serving people. The unmeasured joy that comes from feeding people and seeing them come together over a shared meal.
One evening, after a few glasses of wine, the decision to start Harling Food Co. was made. Jamie is now a member of the Calgary Fire Department and Brit is a professional wine writer and industry consultant. Harling Food Co. is their outlet to continue to engage with their community by providing good food and drink.
PERSONAL CHEF SERVICES & CATERING
We offer a variety of personal chef services including seasonal, multi-course menus, cocktail-style private caterings and in home cooking lessons. Our menus are created using sustainable ingredients while sourcing local whenever possible.
Click here to view our current menu offerings or contact us for more information and to book your next event.
We also offer Gift Certificates in $50 and $100 denominations that can be applied to any of our services.
Our love for pizza runs deep, real deep. We've perfected our fresh dough using 00 flour, we top our pizzas with quality olive oil, local produce and charcuterie and fresh mozzarella and we'll come to your house with our handy forno oven and cook your pizza onsite so you and your guests can enjoy fresh, Neapolitan style pizza in your own backyard!
Click here to view our current pizza offerings.
The cost of having a chef onsite firing pizzas is $150 and pizza pricing starts at $18.
If you're interested in serving up fresh fired dough at your next outdoor event you can contact us for more info and to book your date today. Note that pizzas can easily be incorporated with any of our other private menu offerings as well.
WINE TASTINGS & CONSULTATION
Like any good marriage, wine and food when paired thoughtfully, are greater than the sum of their parts. We support small, independent wineries and work with local shops to create customized wine experiences.
Just as you would find in a fine dining restaurant, we provide optional wine pairings with our multi-course menus. Pricing starts at $35/person.
We also offer custom wine tastings starting at $45/person. For groups of 6 or more, we will host you in your own home or office or in our tasting space (located at JWebb Wine Merchants at Glenmore Landing). Each tasting includes an interactive presentation from Brit, curated selection of wines plus a signature cheese and charcuterie board, designed to compliment the wines. Our tastings are customizable so let us know what you're interested in; be it Italian Whites, Natural Wines From around the world or the Best of Canada!
We also offer virtual tastings and special pricing for groups larger than 12 (pricing available after further consultation). Contact us for more info and to book your next tasting.
Our goal is to bring the experience of restaurant dining into your home and would love to help you put the finishing touches on your special event, from top to bottom.
Let us know what you need to take your party to the next level and we'll find a way to help. We offer artisanal cocktails, custom place settings, seasonal floral arrangements and ambient playlists (music is so important and often overlooked). Over the years, we have also worked with a number of talented photographers, performers and local artisans and are happy to help you make these connections.
Collectively, we have over 30 years of restaurant and retail industry experience, opening and operating innovative and exciting concepts across Canada. If you're a business owner looking to update your menu, streamline your operations or completely revamp your concept please reach out. We are happy to share our experiences, put you in touch with suppliers, offer staff training materials and any other services you may need.
Please contact us for more info.